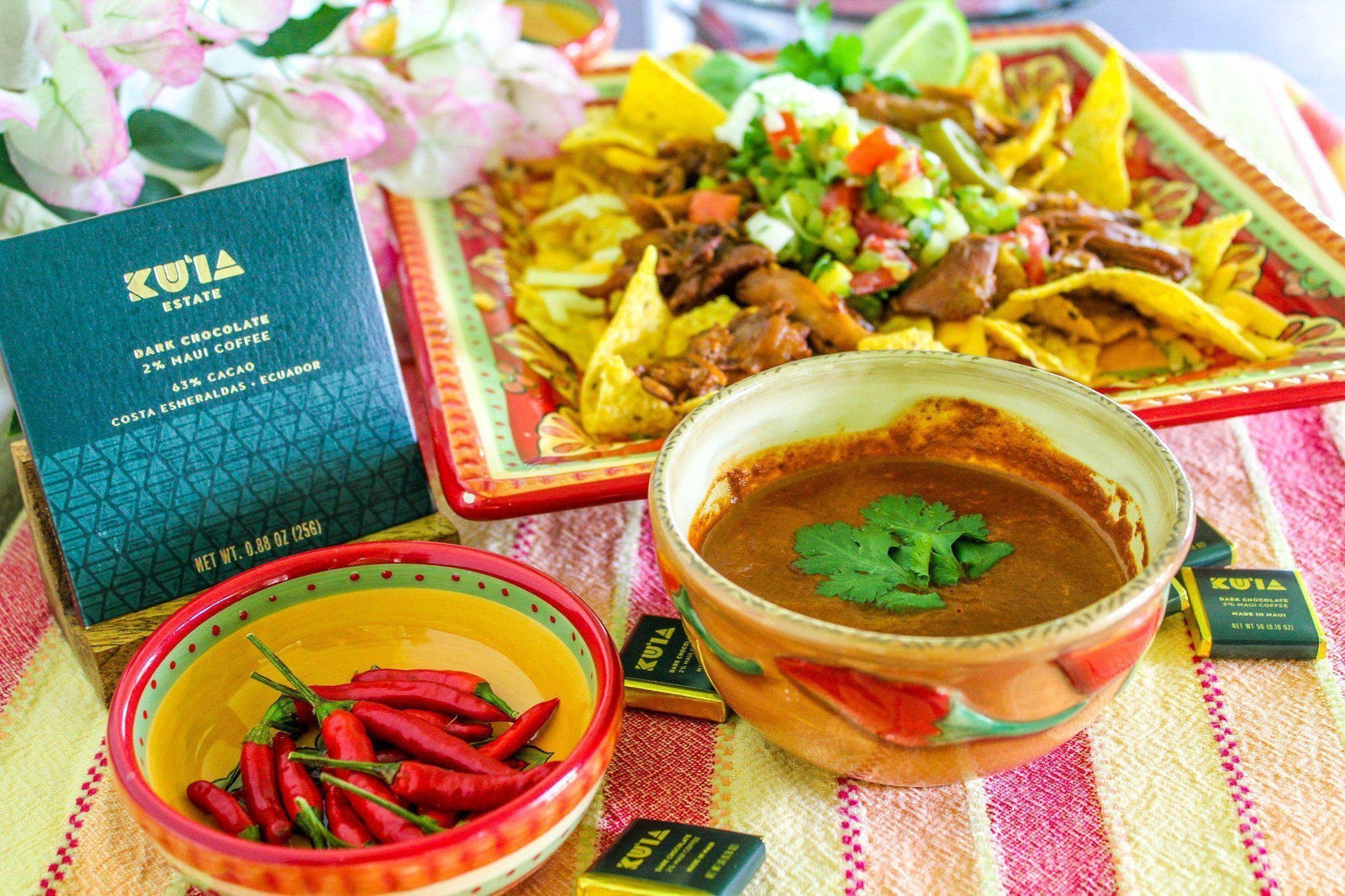 Cinco de Mayo is just around the corner! We have not one, but two great mole recipes for you to try at home this year. What a fun new way to eat Maui Ku'ia Estate Chocolate!
Lisa's Homemade Mole
Lisa Foth, our very own Assistant General Manager, is somewhat of a wizard in the kitchen. She uses our Ku'ia Dark Maui Coffee Chocolate to add depth and flavor to this delicious sauce!
This is something worth taking your time to do when creating that special meal for Cinco de Mayo utilizing Maui Chocolate.
Remove Stems, Veins and Seeds
Toast & Blister Chiles - Approx. 2 Minutes
Transfer to Bowl and Soak in Boiling Water
8 Dried Mulato Chiles 
8 Dried Pasilla Chiles
4 Dried Chilhaucle Negro Chiles
Use Same Pan and Saute Until Charred and Place in Bowl
1 Plum Tomato Cut in Half - Remove Skin After Saute
1/2 Medium Onion, Slice into 4 Large Pieces
3 Tomatillos - Remove Husks and Rinse
3 Cloves Garlic
Wipe Pan, Toast and Place in Bowl
3 T. Corn Oil
2 T. Almonds
2T. Peacans
2 T. Peanuts
Same Pan - Toast - Set Aside in Bowl
1 Large Slice Stale Bread Torn into Pieces.
Same Pan - Toast - Deglaze with Small Amount of Stock - Strain, Keeping Liquid and Discarding Everything You Strained Out.
2 Cinnamon Sticks
3 Allspice
3 Cloves
2 T. Raisins
2 T. Pumpkin Seeds or Papitas
2 T. Sesame Seeds
1 t.  Dried Oregano
1/8 t. Aniseed
1/8t. Cumin Seed
4 T. Honey
5 C. Chicken Broth 
Chile Soaking Liquid
Kosher Salt
Combine All Items  (You will need to do this in two batches)
Use either an Immersion Blender or VitaMix to Liquify.  
Transfer to Large Dutch Oven to Simmer.
Now it's time to add this to your favorite dishes.
Enjoy!
Chef Nabavi's Fig Mole Rojos Sauce

Chef Paris Nabavi is the force behind West Maui's Pizza Paradiso Mediterranean Grill in Honokowai. You just need one 5g piece of our Dark Chocolate to make this recipe!
ENCHILADA SAUCE=13
Batch Yields = 12 fl oz.- Serves 4
8 floz. Water
1 ea. Tomato quartered
1/4 ea. Onion, chopped
1 ea. Garlic cloves
2 ea. California Chiles
0.5 oz. Butter cubed
Salt to taste

In a stock pot over high heat, bring the water to boil add tomato,
onion, garlic and Chiles for 30 minutes. Remove from the heat
and let cool. Blend all the ingredients and strain through a fine
mesh sieve. Press with the back of the ladle to extract all the
flavors. Whisk in the cubed butter and add salt. Refrigerate up to
3 days.
FIG MOLE ROJOS SAUCE
Batch yields = 10 floz
2.5 oz. Peanut Butter
2.5 oz. Pecans
2.5 oz. Pumpkin Seeds
5g 65% Ku'ia Dark Chocolate
1 Tbsp. Cinnamon
2 Tbsp Sugar
12 floz. Enchilada sauce
10 floz. Hot water
8 floz. Hot water
1 ea. Ancho Chili
2 tsp. Cumin
1.5 oz. Butter
Salt to taste

Heat the enchilada sauce in a large size pot. Remove the
stems and roast Ancho Chiles on the flat top and add to
the enchilada sauce, add hot water, peanut butter,
pecans, Pumpkin Seeds Sugar and cinnamon and
chocolate, let simmer at low heat for 30 minutes, blend all,
salt and strain to remove all impurities. Return to pot add
8-10 oz. water and whisk in the butter in the sauce. Turn
the heat off. Let cool before storing in refrigerator.