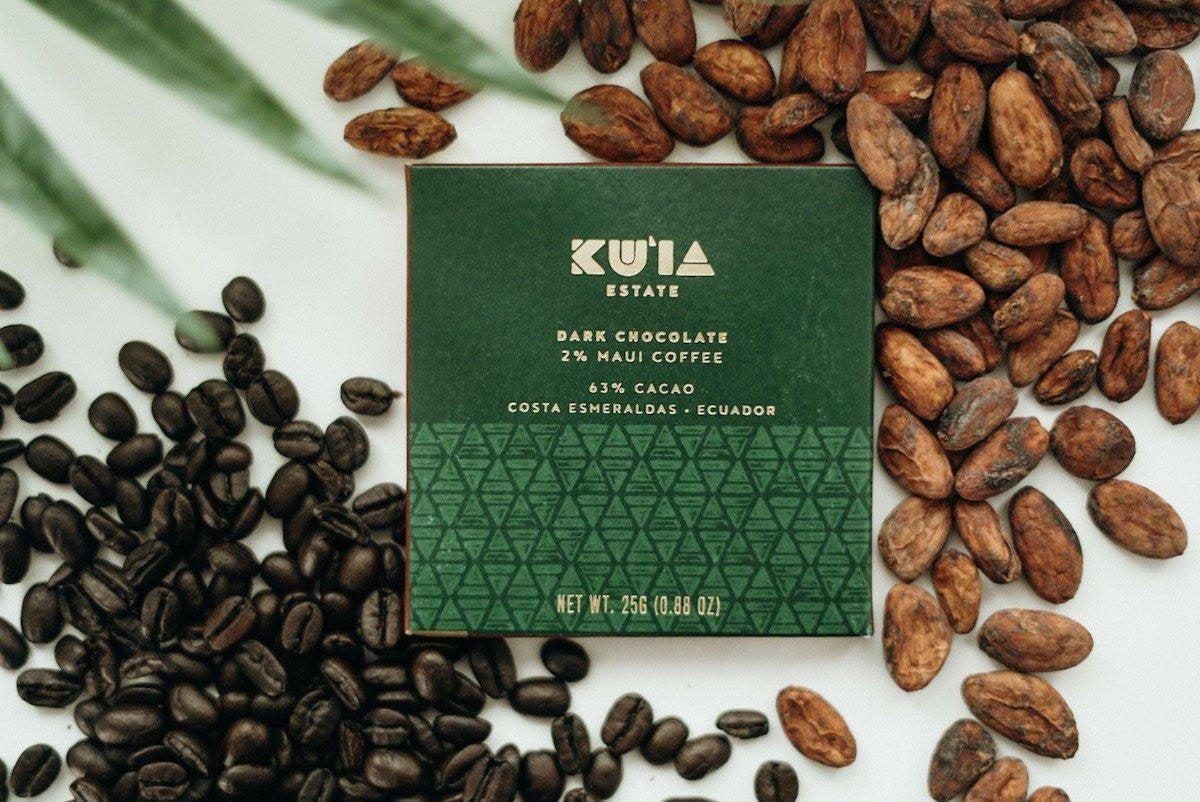 Learn about Maui Kuʻia Estate Chocolate via in-person and virtual tastings with the company's owners.
BY CATHERINE TOTH FOX JUL 22, 2020
"Chocolate is a suspension of particles in cocao butter."
I had to think about that for a minute.
Gunars Valkirs is conducting a virtual tasting of his Maui Kuʻia Estate chocolate via Zoom, and I'm listening to him describe, in very scientific terms, what I'm sensing, tasting and feeling when I bite into one of his Maui-grown chocolates. Which are, by the way, exquisite.
"It's best to eat chocolate when your body is at room temperature," he continues. "Let it melt in your mouth slowly ... Your body is perfectly engineered to enjoy chocolate because of chocolate's melting point and your body temperature. It's the perfect environment."
If you can't already tell, Valkirs was biotech scientist and inventor—he has more than 30 U.S. patents—before adding cacao farmer and chocolate maker to his resume. These virtual tastings are something new he and his partner, Dan O'Doherty, are offering right now, in addition to in-person tasting at Maui Kuʻia's retail storefront in Lahaina. (The virtual tasting is free when you purchase chocolates online.)
"Getting people to taste the chocolate is our No. 1 priority," says Valkirs, who now lives in Kapalua and eats 20 pieces of chocolate a day. "One bite and I know they will realize it's world-class chocolate, made right here on Maui, and they'll want to buy it and support as a local, small business."
SEE ALSO: 5 Reasons You Want To Eat Maui Kuʻia Estate Chocolate
Valkirs started the company in 2013, planting 50 cacao varietals over 20 acres of former sugarcane land in Lahaina. (He started growing cacao as a hobby; now, about half of the 50 acres is cultivated.) He harvested the first cacao crop in 2018 and, the following year, debuted Maui Kuʻai Estate chocolate to the public. All of the net profits are donated to Maui charities and nonprofits. "Our focus is giving back to Maui because this is where we live," he says.
SEE ALSO: How Hawaiʻi's Cacao is Making the World Sweeter
Hawaiʻi is the only U.S. state that commercially grows cacao. And, like wine, the flavor of Maui Kuʻia's chocolates can be traced to the land. Valkirs' plan is to create single-varietal chocolates; meaning, crafting chocolate from a single tree. Right now, though, he doesn't have enough cacao in production for that—but, he underscores, all of the cacao used in his Maui-branded chocolate is grown on his farm.
"Our signature flavor is based on this blend and the micro-environment where the farm is," he says. "This farm is unlike any other farm in the world ... and we expected and succeeded in developing a flavor profile that's representative of this micro-environment."
By that he means the 5-gram tablet of Maui chocolate that I'm now nibbling will melt at first, then the flavor will turn into a tanginess, he explains. "The tanginess will grow and persist throughout the melting phases and lingers really long into the finish. We actually really like that." He compares the taste to an apple banana.
We move to the Wild Amazon, a truly unique chocolate offered nowhere else in the world but here. Valkirs uses cacao beans that grow wild on the banks of the 1,840-mile-long Purus River, a tributary of the Amazon River in Peru. Most of the river is uninhabited. There's likely no one else in the world using this variety of cacao to make chocolate.
"This cacao is genetically distinct from anything farmed in the world," explains Valkirs, as he urges us to first smell the chocolate before eating it. "It has an earthy aroma."
I take a small bite and let it sit in my mouth, per his instructions. He mentions what we may taste—mushrooms, dried blueberries—and I'm blown away. I've eaten a lot of chocolate in my lifetime, and this is something very special.
Maui Kuʻia also offers a 78% cacao made with beans Costa Esmeraldas, a farm in Ecuador, and chocolates infused with Maui-grown coffee and essential oils like blood orange (most popular), lemongrass and peppermint. Valkirs said he experimented with about 30 different flavor options—even some savory ones—and these were the best three.
All of these chocolates—including the Wild Amazon—are available for purchase online. But if you're lucky enough to be on Maui right now, you can sign up for in-person tastings in an open-air pavilion above the Lahaina factory. Cost for a 13-flavor tasting is $15 per person or $25 per couple, with 100% of the proceeds benefitting the Maui Food Bank.
And if you're not on Maui—like me—the virtual tasting is a fun alternative. And trust me, it will change the way you eat chocolate.
78 Ulupono St., Lahaina, (844) 844-5842, mauichocolate.com