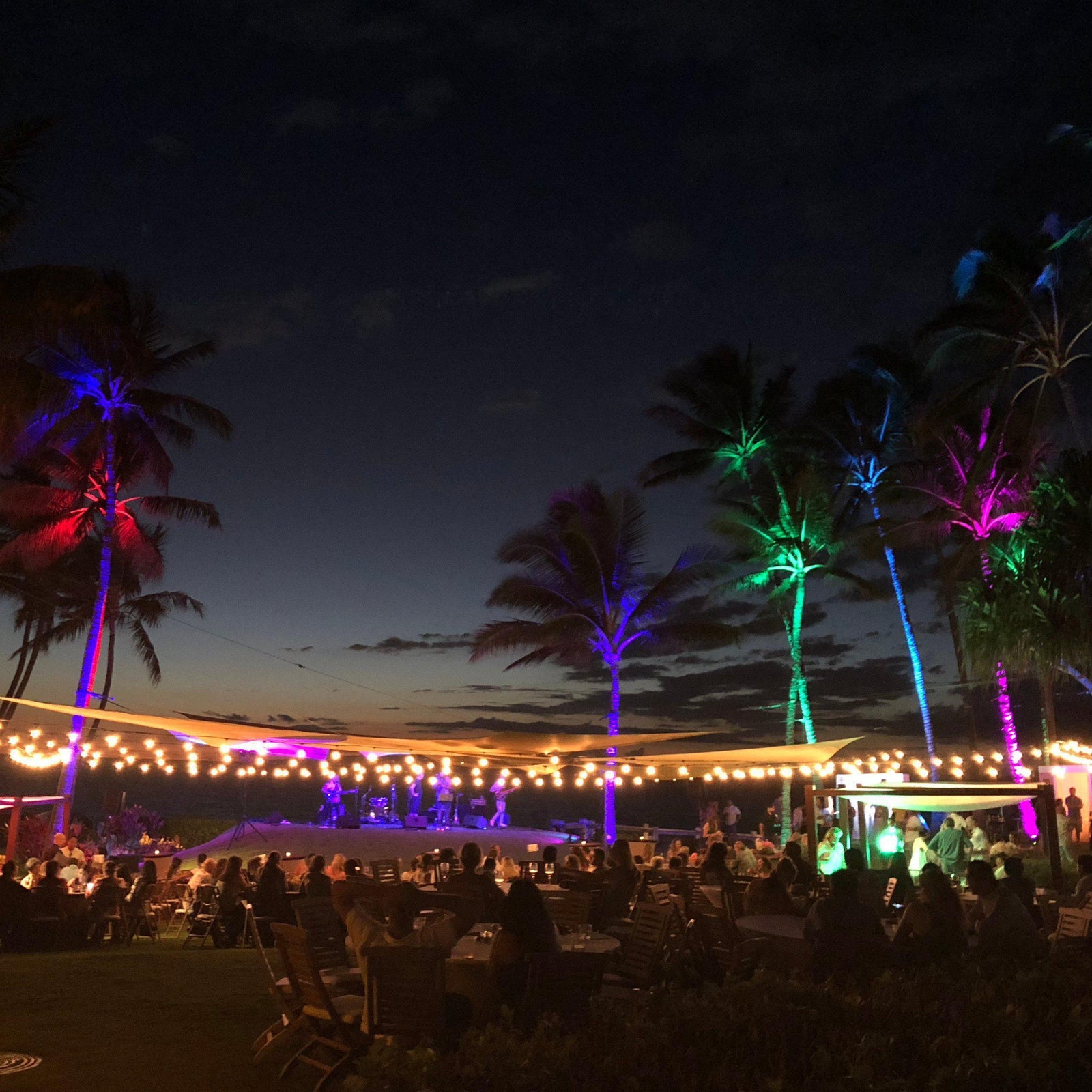 On Sunday September 2, Andaz Maui at Wailea Resort celebrated their 5th anniversary with a charity event —proceeds from which benefitedour good friends atthe Pu'u Kukui Watershed Preserve.
We were delighted to attend and offer chocolate tastings at theHo'olaule'a, where several members of the Maui Ku'ia Estate Chocolate team—including Gunars, Krishna, Chef Riko, Charlene and Nainoa (our new assistant chocolate maker!) worked the chocolate tasting booth. Throughout the evening our team talked story with the guests, answering their questions about our Maui grown cacao, Cacao Farm and Chocolate Factory. They also offered samples and collected feedback from guests on our65% Dark and 60% Dark Milk Chocolate as well as our exciting new flavors Dark and Dark Milk Peppermint.
Made with food-grade essential oil, the Peppermint was a big hit with the crowd, many of whom mentioned that it not only tasted good but made them feel happy, because the peppermint reminded them of times spent with their family at Christmas eating different varieties of peppermint treats.
We also shared the chocolate with the other chefs, including Iron Chef Masaharu Morimoto (pictured above with our very own Palani), the Andaz event crew and HOKU award-winning Maui Musician, Anuhea. Thank you all for your support of our company and product; it was a pleasure to meet you!
It was fantastic to see our chocolate featured in the evening's decadent dessert selections, made by Andaz Pastry Chef Ashley Nakano. We received many compliments about how the Maui Kuʻia Estate Chocolate made them extra special. 
This event was not just about chocolate tasting for us; in fact it was incredibly important because we wanted to give our Maui Kuʻia Estate Cacao Farm team, David, Joe, Andy, and Palani a special Mahalo for all of their hard work, especially after a difficult week dealing with the aftereffects of the Lahaina fire. Sitting down to a meal made by gourmet chefs, enjoying great live music and craft cocktails, this was exactly the treat that the team needed! 
Congratulations again to the Andaz Maui on a great anniversary event, and our thanks to Area Vice President Michael Jokovich and Executive Chef Isaac Bancaco for the invitation to participate in their 5th anniversary celebration, it was thoroughly enjoyed by all of theKu'ia team members and their guests.