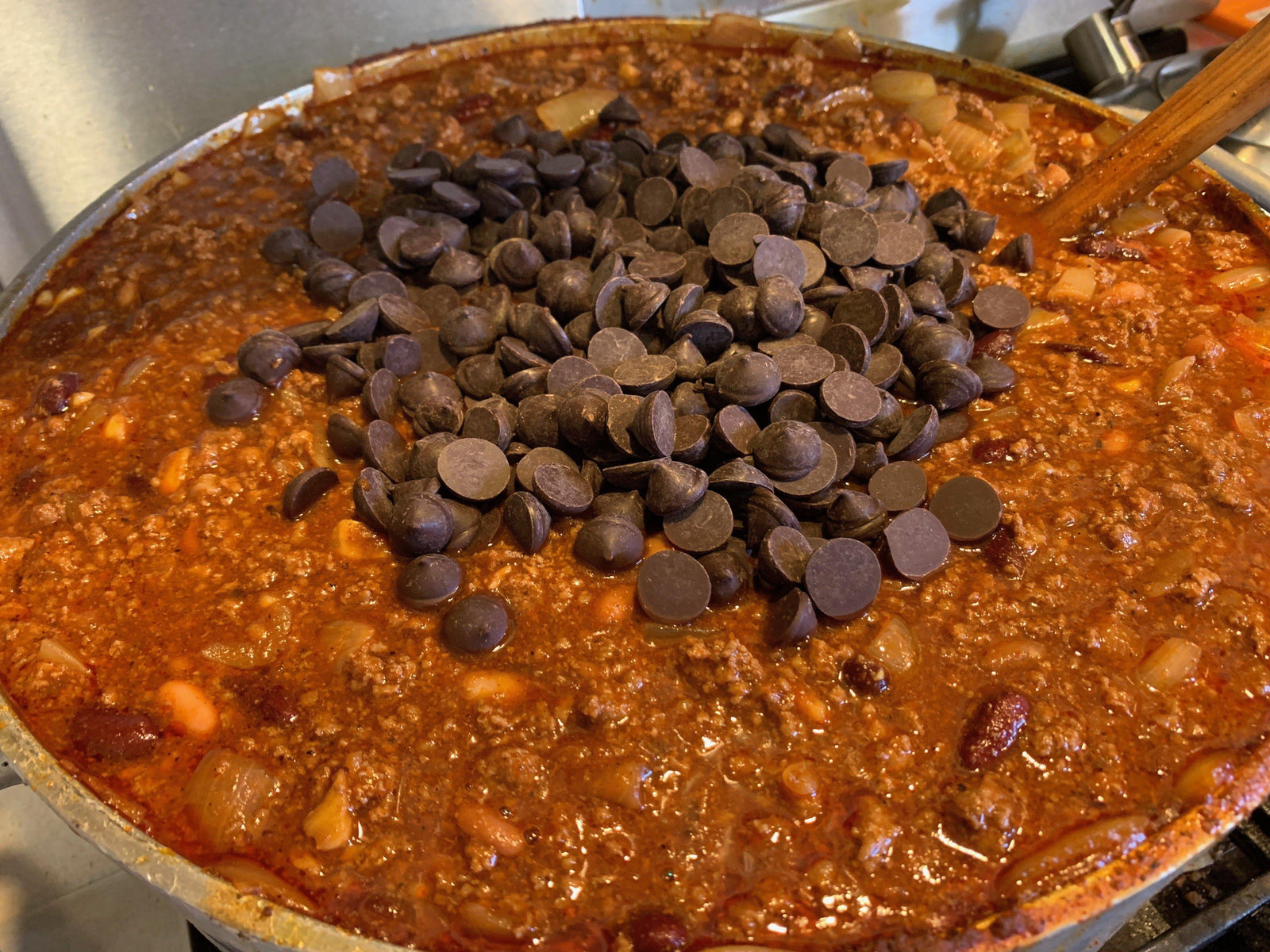 Have you ever seen a more ono looking chili? Chef Kyle Kawakami created this super yummy and filling chili recipe to share with you. 
"The chocolate adds sweet and bitter qualities to the chili. It works well with the flavor of the chili (sauce) and beef, and itʻs not an "in your face" flavor", but more in the background." -- Chef Kyle Kawakami
Haleakala Ranch Beef and Bean Chili
with Maui Ku'ia Estate Chocolate
Serves 4-6 people 
Ingredients
2 pounds ground Haleakala Ranch/Maui Cattle Co. beef
2 onions, chopped
1 tablespoon plus 2 teaspoons chili powder
1 tablespoon ground cumin
1/2lb. Maui Kuia Estate Chocolate dark chocolate with coffee
3 cloves garlic, minced
2 jalapeno peppers, seeded and minced
Two 15-ounce cans pinto beans, undrained
1 teaspoon cayenne pepper
1 teaspoon dried oregano or Italian seasoning
Two 15-ounce cans black beans, drained and rinsed
One 15-ounce can diced tomatoes
4 cups tomato sauce
2 cups beef broth
Optional garnishes: Sour cream, shredded cheese, sliced green onions
Directions
In a large Dutch oven over medium-high heat, add the ground beef and cook for 2 minutes. Next, add the onions, chili powder and cumin, and stir together. Add the chocolate, garlic and jalapenos, mix together and cook for 2 minutes. Next, add in the pinto beans, cayenne pepper and oregano, and cook for another minute. Add the black beans, diced tomatoes, tomato sauce and broth, cover and simmer for 1 hour, stirring occasionally.


Garnish with sour cream, shredded cheese and green onions if desired.