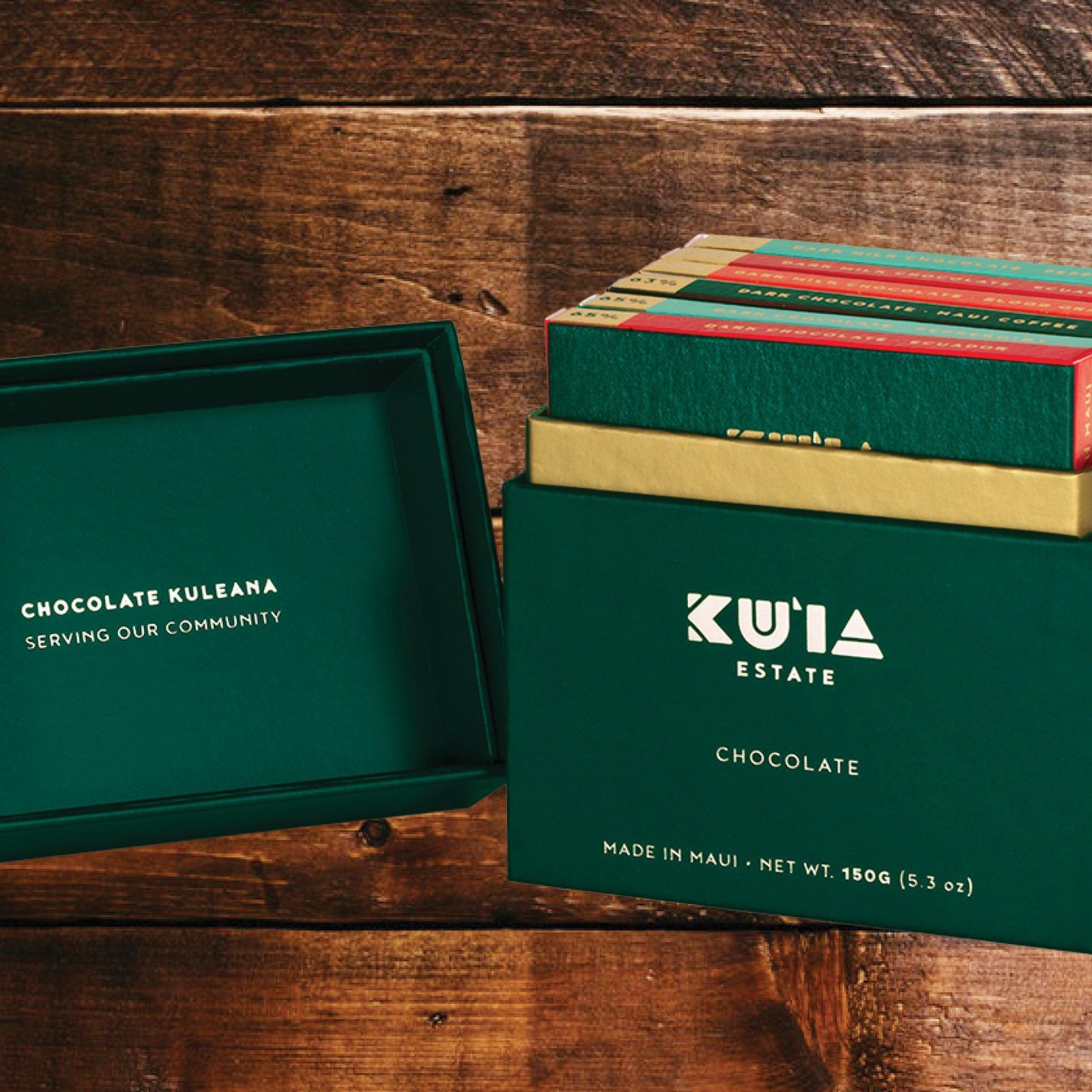 Aloha.
Over the past few weeks we have shared exciting construction developments at our factory and news about the trip that Dan and Nainoa took to Italy to check and evaluate our chocolate equipment. 
While all of this has been going on, our team also made and delivered 600-gift boxes for a Corporate Partner amenity order that we promised last year for festive season this year.
Image: Gift Box with Six 25g Bars
Because Maui Ku'ia Estate Chocolate has a State Department of Health permit to produce chocolate at the University of Hawaii (UH) Maui Food Innovation Center, we were able to complete this order, which was featured in a recent Maui News story.
Image: Removing the Bars from the Molds
Image: Krishna, Gunars and Joe with UH students Tiffani, Stephanie, and Lydia
Over eight days with help from a team including Palani and Joe from our cacao farm; University of Hawaii culinary students Tiffani, Stephanie, and Lydia; and from Sherrie, JoRene, Charlene, Meagan, Zenobia, Jenny, Jami, Gerard, Gunars, and Krishna we handmade almost 4,000 bars of chocolate. The flavors included: 1) Dark Chocolate, 2) Dark with Maui Coffee, 3) Dark with Peppermint, 4) Dark Milk Chocolate, 5) Dark Milk with Blood Orange, and 6) Dark Milk with Peppermint. You can see the individually wrapped bars and boxes below.
Image: Individually Wrapped 25g Bars
Image: Empty 25g Boxes Ready to be Filled
Image: Individual 25g Boxes with Chocolate Bars
Image: Charlene and JoRene Compiling Gift Boxes
Image: Sherrie, Zenobia, JoRene, Jenny, Charlene, and Gunars
We would like to extend our thanks to Sae Design on Maui for their work on the creative, branding, and packaging design; Electric Pencil on Oʻahu for sourcing specialty paper from Wisconsin, and then printing, die-cutting, and manufacturing our 25g chocolate boxes. Mahalo to Savor Brands on Oʻahu for designing and sourcing our 18 x 5g piece, 48 x 5g piece, and 6 x 25g bar gift boxes; and to Nina Ann Tanabe a Food Scientist at the Maui Food Technology Center (MFTC), who was responsible for assessment, calculations, and development of the FDA required food nutrition labels for all the packaging. Our deepest appreciation to Chris Speere, Associate Professor/Site Coordinator for the UH Maui Food Innovation Center for his assistance in planning and execution.
Please let us know what you think about the packaging.
Image: Maui Ku`ia Estate Chocolate Production Packaging