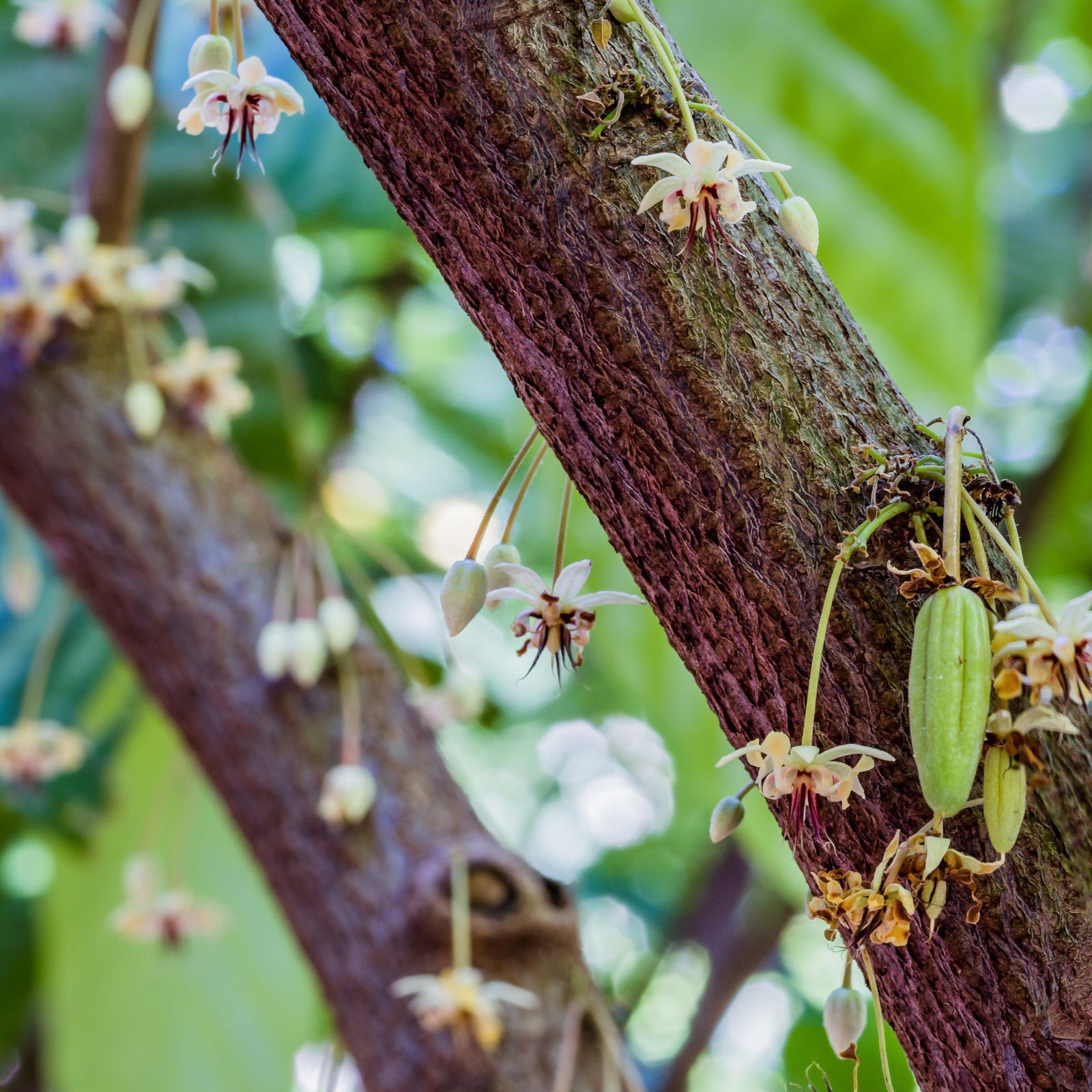 In recent years our Maui Ku'ia Estate Chocolate farmers have been tending to our sustainable cacao from seedling to fully-grown cacao pods. This year we were delighted to have our very first Harvest in April. We were pleased to see the abundance of fruit that our trees were producing and had several subsequent harvests later in the year. In 2018 approximately 600 kg of dried cacao beans was harvested from the farm.
Image: Cacao pods from the 2018 harvest
Our mission to make one of the world's finest chocolates, using cacao beans produced on our own working chocolate farm, is becoming a reality now that we have approximately 7,000 cacao trees set across 20 acres. Over the next few years, we will plant the next 30 acres for a total of 50 acres, which at full maturity should yield around 40,000 kg (88,000 lbs.) of dried cacao beans.
 Image: Arial picture of the farm and the West Maui Mountains
Initially, new irrigation systems were installed and a forest of trees was planted to provide shade and a windbreak for the Kuʻia cacao. This year, during the devastatingLahaina fire these windbreak trees also acted at a buffer against the spreading fire and helped to protect the cacao trees. We did lose hundreds of young trees that will have to be replaced, but almost all of our oldest trees planted three years ago survived and have re-grown the leaves that were stripped by the 70 mph winds during the fire.
Kuʻia is the name of the ahupuaʻa (Hawaiian mountain to sea land designation) where the cacao farm is located.
Image: Farm road tree line
Image: Tree line at the makai side of the farm
Working on the farm is a continuous learning experience. Whether dealing with natural weather occurrences that may affect the crop or seeing how many cacao pods we may yield in each harvest there is always something to learn from, adapt to, and prepare for in the future. We are proud to say that we have a team of botanical experts that each has an extensive background in land conservation, Hawaiian ecosystems, and tending horticulture on Maui.
Image: Maui Ku`ia Estate Cacao Team (left to right) Joe, Andy, Dave and Palani
We are now excited to share some images of the first flowers and cherelles appearing on the trees. With the New Year comes a new cycle of growth and we look forward to sharing the farm updates with you all throughout the year! 
Image: New leaves growing on our cacao trees
Image: New cacao tree flowers
 Image: New flowers and cherelles (baby pods)
We are excited to release our first offering of chocolate made with Maui grown cacao at the end of 2019.