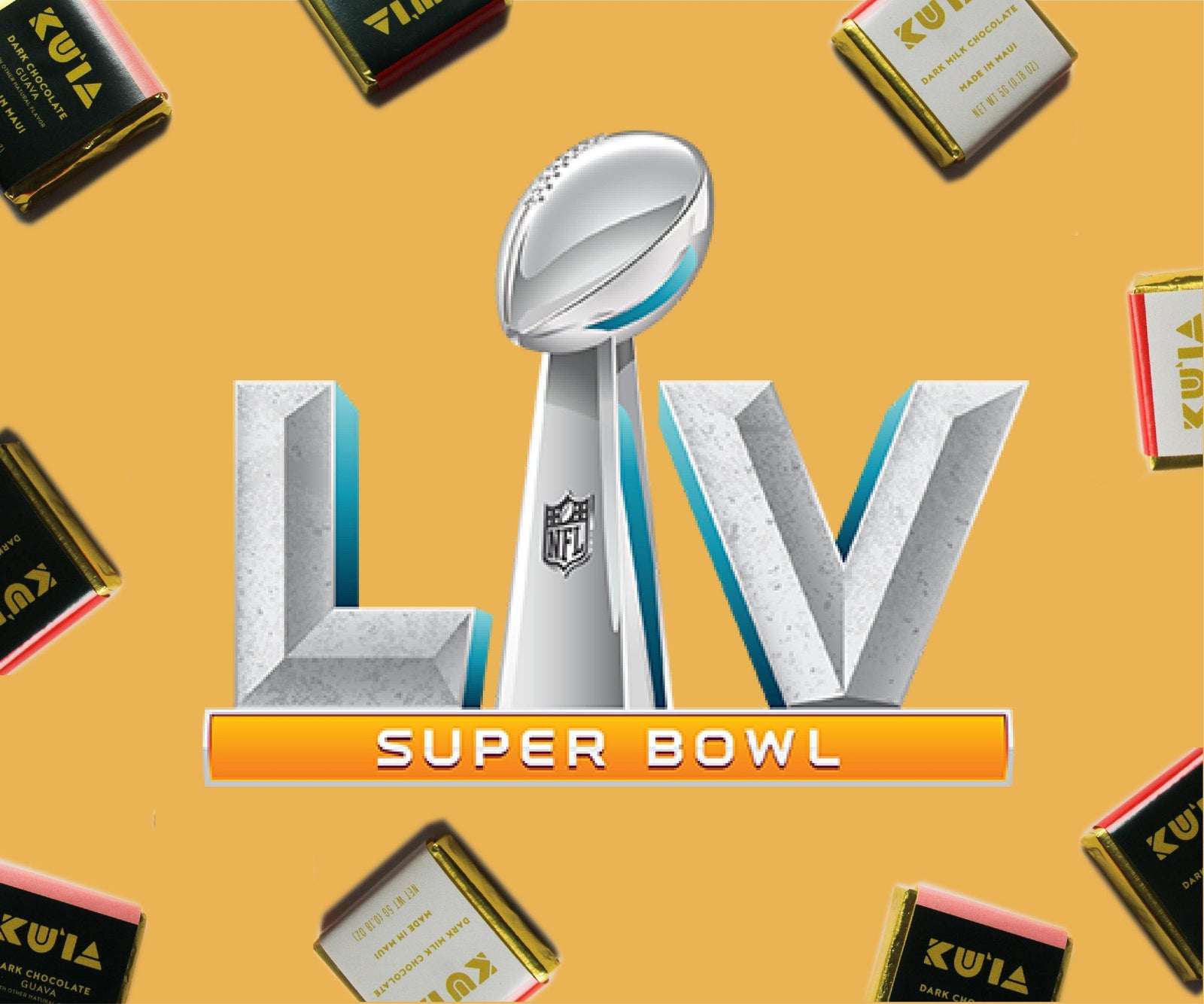 When it comes to Super Bowl snacks, we don't mess around– and neither should you! 

So don't forget to get out some of your favorite chocolate flavors, mix some baking drops into your snack mix, or use some cacao mass for a nice brisket rub. Either way, you can't go wrong!
Weekend Sale
IN STORE ONLY!
Take advantage of BOGO Chocolate Bars and 30% Off Select Assorted Gift Boxes while supplies last!

*Available this weekend in store only
__________________________
GUNARS' CHOCOLATE TUTORIALS
PLUS: This Sunday, Gunars will be hosting three live tutorials for anyone who would like to stop by the chocolate factory! It's fun, delicious, and free.

Join us this Sunday to learn how Gunars does the following:

10:00 am     Make lilikoi chocolate mousse
11:30 am     Make chocolate sauce and shakes
1:00 pm       Temper and mold chocolate 
Each tutorial will take place on the second floor of the chocolate factory in our open air pavilion.
It's a great activity to do before watching the big game! Not a fan of football? Say hello to a great alternative activity!
__________________________
Chocolate & Beer?
One of our favorite things about eating chocolate? Beverage pairings! Whether you're partial to beer, wine, or tequila, here are a few of our pairing suggestions to enjoy this weekend while watching the game.
Recommended Maui Chocolate and Drink Pairings
*Always choose a beverage that is served at room temperature or slightly warmer (i.e. coffee)
*Always sip then take a bite, or take a bite then sip; follow the taste with the pairing.
WINE & CHOCOLATE PAIRING GUIDELINES
Low to very low acid wines
Low to very low tannin wines
PLUSH, SOFT & FRUIT FORWARD wines recommended
RED WINES BETTER SUITED VS WHITE, ROSÉ OR MOST SPARKLING WINES
NOT IDEAL: Pinot Noir, Sangiovese, Carbernet Sauvignon and Nebbiolo are generally not ideal to pair with chocolate due to their acid and/or tannin structure.
IDEAL RED WINES
Zinfandel
Zinfandel-based blends
Corvina & Valpolicella blends (i.e. Amarone)
Merlot & Vintage Bordeaux blends
Gamay (Beaujolais)
Lambrusco (sparking semi sweet red wine from Italy)
FORTIFIED
Tawny Port (Colheita, 10 or 20 yr)
Reserve/LBV/Vintage Port
Ruby Port
Sherry: Pedro Ximenez
Madeira: Bual/Malmsey
Brandy
BEER
Porter
Stout
Oatmeal Stout
TEQUILA
Coffee
Maui Ku'ia Suggested Pairings
Morgon Vieilles Vignes Beaujolais (France): Dark Single Origin Chocolates (Maui Estate Dark, Wild Amazon Dark, Costa Esmeraldas, Ecuador Dark Unflavored)
Maui Brew Co. Coconut Hiwa Porter (Maui, HI): Dark Milk Chocolate, Maui Grown Cappuccino Milk Chocolate
Taylor Fladgate 20-yr Port (Oporto, Portugal): Dark Chocolate Flavors (Blood Orange, Mango, Guava, Calamansi, Lemongrass)
Maui Wine "Mele" Red Blend (Maui, HI): Dark Blood Orange, Dark Mango, Dark Ecuador Unflavored, Dark Milk Maui
Maui Wine "Lehua" Raspberry Wine (Maui, HI): Dark Maui Estate, Dark Ecuador Unflavored
Casamigos Blanco Tequila (Jalisco, MX): Dark Mango, Dark Calamansi
Bedrock Heritage Zinfandel Blend (Sonoma, CA): Dark Maui Estate, Dark Wild Amazon, Dark Blood Orange, Dark 2% Maui Mokka Coffee
Cafe Latte: Dark or Dark Milk Peppermint
UNUSUAL SUGGESTION: Maui Wine Hula or Maui Sparking Pineapple Wine (Maui, HI): Dark Milk Lemongrass, Dark Calamansi