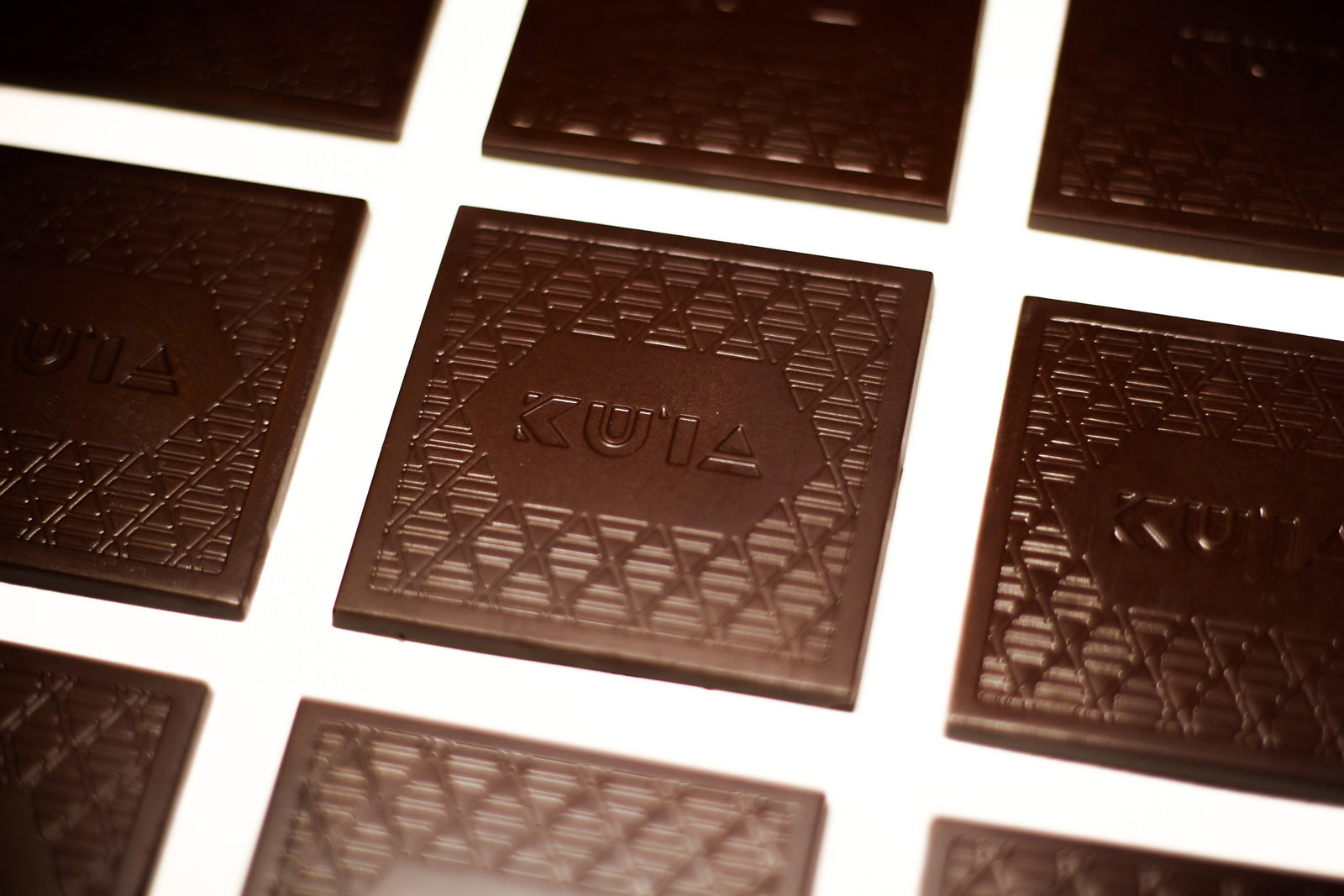 Aloha!  
This week we are producing 65% dark chocolate in the Maui Food Innovation Center for local chefs to use in their dessert creations.
Taverna in 

Kapalua "Torta di Cioccolato," A Flourless Ku'ia Estate Chocolate Cake. 
For thisMade in Maui chocolate we are using cacao beans that we directly source from our farm partners at Costa Esmeraldas, Ecuador. The unique cacao varietal cultivated at this single estate is known as Ecuadorian Nacional or 'Arriba'andproduces anunbeatable rich chocolate flavor used by pastry chefs and as a base for our flavored chocolate bars.  
 Fresh wet cacao seed is taken out of the Costa Esmeraldas orchard in buckets.

Photo: Dan O'Doherty 
After roasting and separating the beans, we use a roll refining machine to grind the nibs into a flaky powder called cocoa liquor or cocoa mass.
Pre-refining cocoa liquor.
Over a period ofaboutthree hours, the cocoa liquor and sugar areground into a fine mixture using alow speedball mill.A ball mill is a stainless-steel vessel containing several hundred pounds of steel ball bearings. A spinning shaft with paddles causes the balls to collide and crush the cocoa and sugar particles to a size between 16-18 microns so the chocolate has a silky, smooth texture.  
 Sugar being added to cocoa liquor in the ball mill.

Picture: Nainoa Moore 
After the chocolate is refined to a smooth liquid, it is transferred to machine called aconche. Theconchewasn't developed until the late 19th century and was a major advance in chocolate production. In this machine, chocolate is stirred, heated, and aerated to create a smooth emulsion andfurther develop the flavors and aromatic profile of the finished chocolate.The high shear forces created in theconche also release cocoa butter from within fissures in the cocoa particles and improve viscosity and workability.  
Smooth and shiny dark chocolate

churning

in the

conche

. 

 
Photo: Nainoa Moore 
Finally, after a three-day long process, the chocolate is ready to be poured into molds and distributed to chefs, mostly in bulk form but some of it is hand-tempered and molded into bars to be used as samples before our factory in Lahaina is open.
 Hand Tempering Chocolate Bars at the Maui Food Innovation Center.

Photo: Nainoa Moore 
25g Ku'ia Bars made at the Maui Food Innovation Center. 

Photo: Nainoa Moore