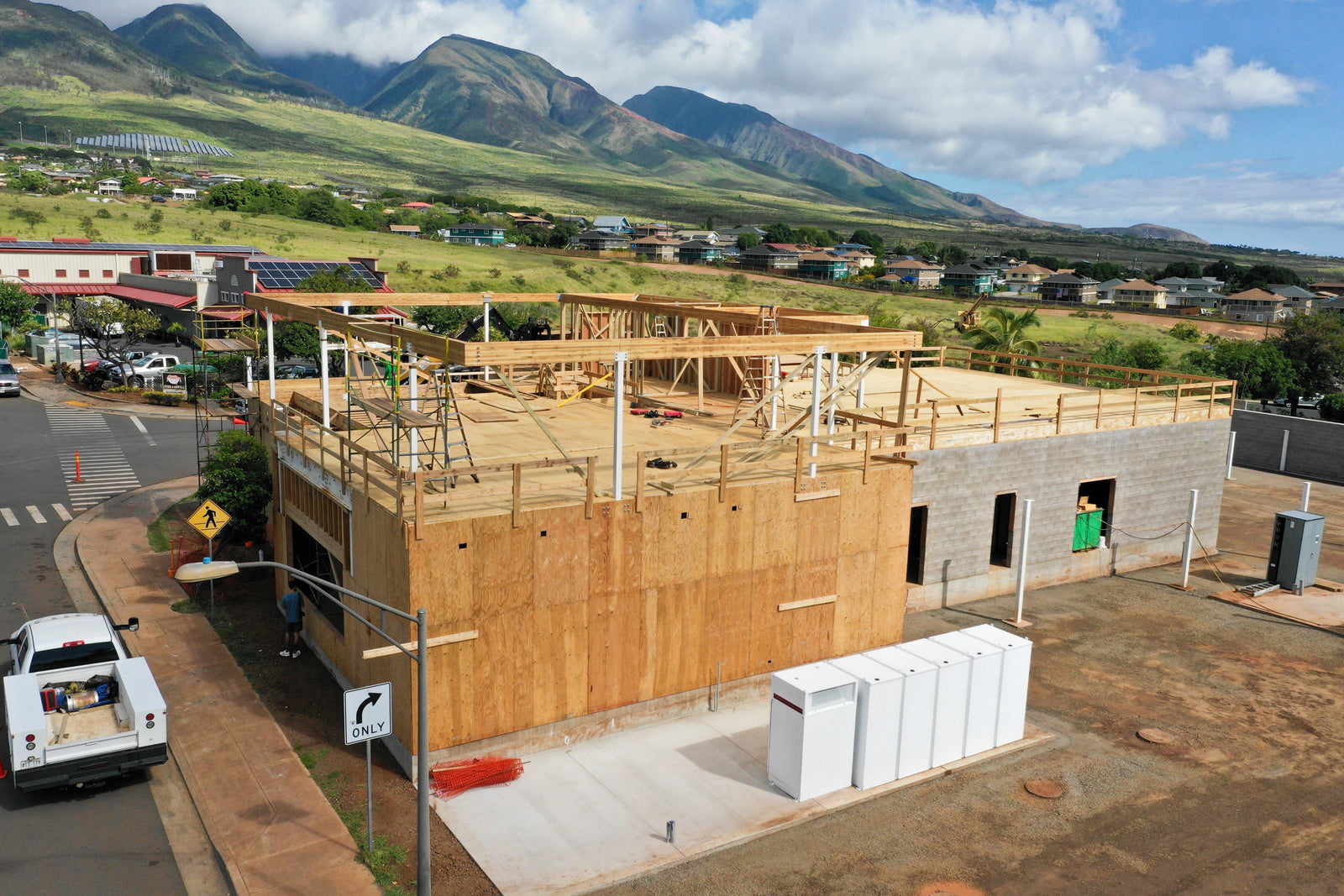 Progress at the factory is moving along quickly thanks to our amazing construction teams! The first floor framing is complete and the second floor is in progress...

Aerial view of the factory with the second story beams set in place.
The Tesla batteries have been installed, which will power our factory and keep us 100% off the grid.
Concrete slabs have also been poured to house our other mechanical systems.

Photo: Nainoa Moore 
Final preparation for paving is underway... 
Photo taken from our second story as the parking lot is being prepped.
Paving will begin early next week!

Photo: Nainoa Moore   
A Big Mahalo To Our Construction Teams!
John Bews and his general contractor team, Erik Bures, 
J. Conniff, Shane Feliciano, Sy Feliciano, Jarrett "Maka" Kanekoa, 
Isaac Pahulu, and Ashley Yamada. As well as David Stoops and his framing team, Paul Pastrana, Rick Schmitt, Luis Ochoa, James Nunez, and Giovanni Floris.

Thank you for your hard work and dedication.  
Local Chefs Featuring Ku'ia Estate ®  Chocolate...
Check out the latest local dessert creation made with our Ku'ia Estate® Chocolate.
Courtesy of Chef Ed Morita at Star Noodle Featuring layers of Chocolate Mousse made with 65% dark, Ku'ia Estate ® Chocolate and Flourless Chocolate Cake, soaked in a Coffee and Chinese Five Spice Syrup, drizzled with Miso Caramel and topped with Oreo Cookie Crumbs.

Photo: Nainoa Moore    
Our chocolate
pieces final packaging.
We have received our first samples from Italy of our 5-gram chocolate pieces in their final packaging. These are automatically wrapped on our beautiful Italian wrapping machines which will wrap 80-90 pieces a minute! Now that our machines have been tested they are enroute to Maui.

Photo: Nainoa Moore