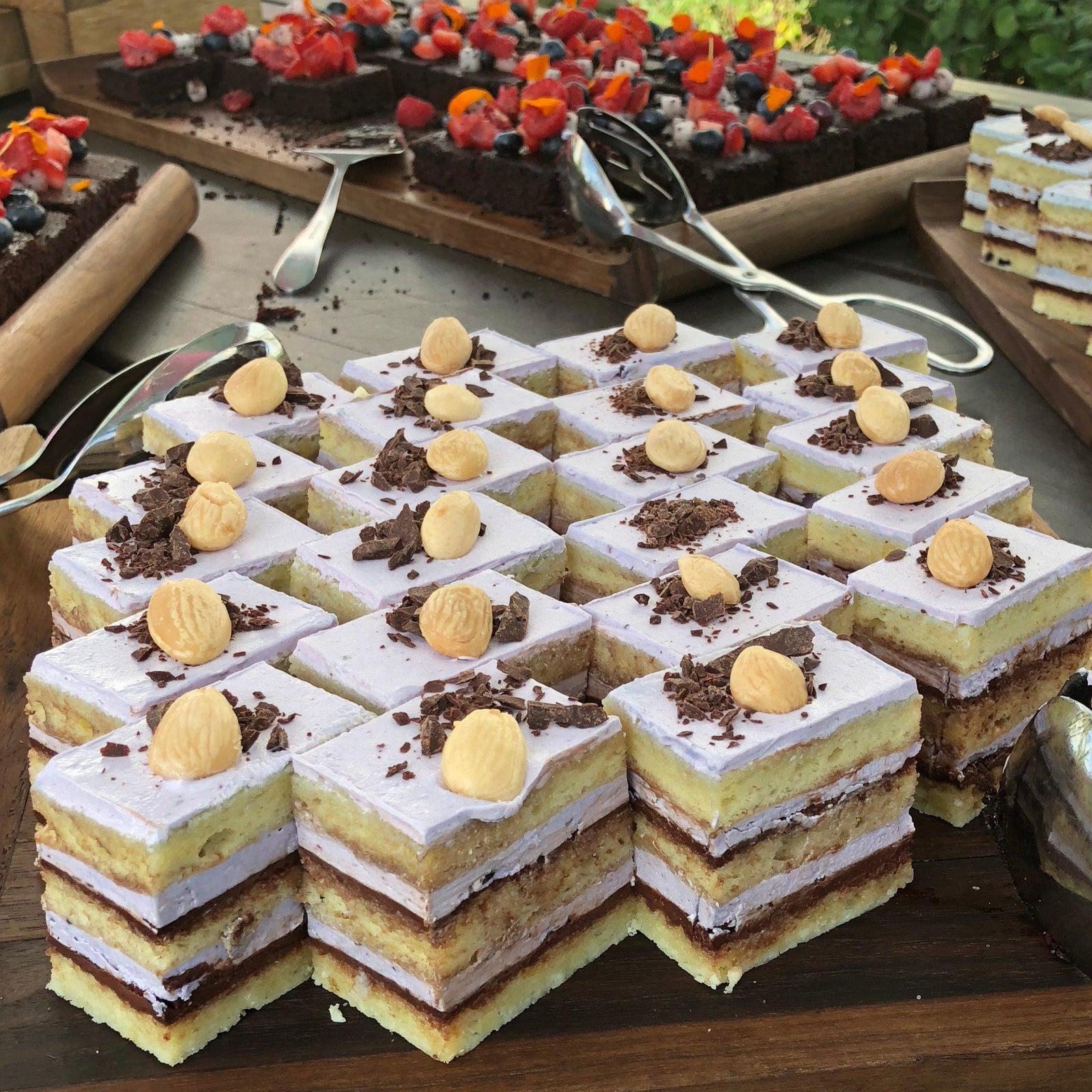 If you have been enjoying our Blogs and Newsletters over the past three months then you will have read our piece on the Andaz Maui at Wailea Resort 5th Anniversary Celebration.

We were delighted to attend and offer chocolate tastings to all of the event comers. For this event, guests were also enjoying the Kuʻia Estate Chocolate that was featured in the evening's decadent dessert selections.
We spoke with Andaz Pastry Chef Ashley Nakano this week about her experience working with our chocolate, the things that influence her recipes and how important it is too her to be working with local ingredients.
The first desert that Chef Ashley created was a moist, rich chocolate cake served with local fruit.
Chef Ashley says that she likes to experiment with flavors and style to create a truly unique modern twist on the traditional recipes that she is inspired by. For example, the second dessert option for The Andaz 5th Anniversary celebration was a traditional Opera cake, but instead of using coffee and chocolate she used local ingredients such as Lilikoi, Kuʻia Estate Chocolate and blueberries.
"A lot of my inspiration actually comes from my friends and families preferences.  I create a lot of my desserts based on what they enjoy," says Chef Ashley.
Chef Ashley continued to explain that her friends who she met in culinary school but became farmers also have a big influence on her and how she sources her ingredients.  By using local produce (including Ku'ia Estate Chocolate) Chef Ashley is committed to "give our guests a more rewarding local food experience."
Almost all of the Kuʻia team were in attendance on September 2nd at the Anniversary event.We were delighted to try both desserts and enjoyed them thoroughly.
We look forward to seeing all of the exciting recipes that our chocolate will be featured in at our own Lahaina Chocolate Factory Chef's Table as well as across the island with wonderful Chefs such as Ashley Nakano who enjoy experimenting with locally sourced ingredients in their creations.