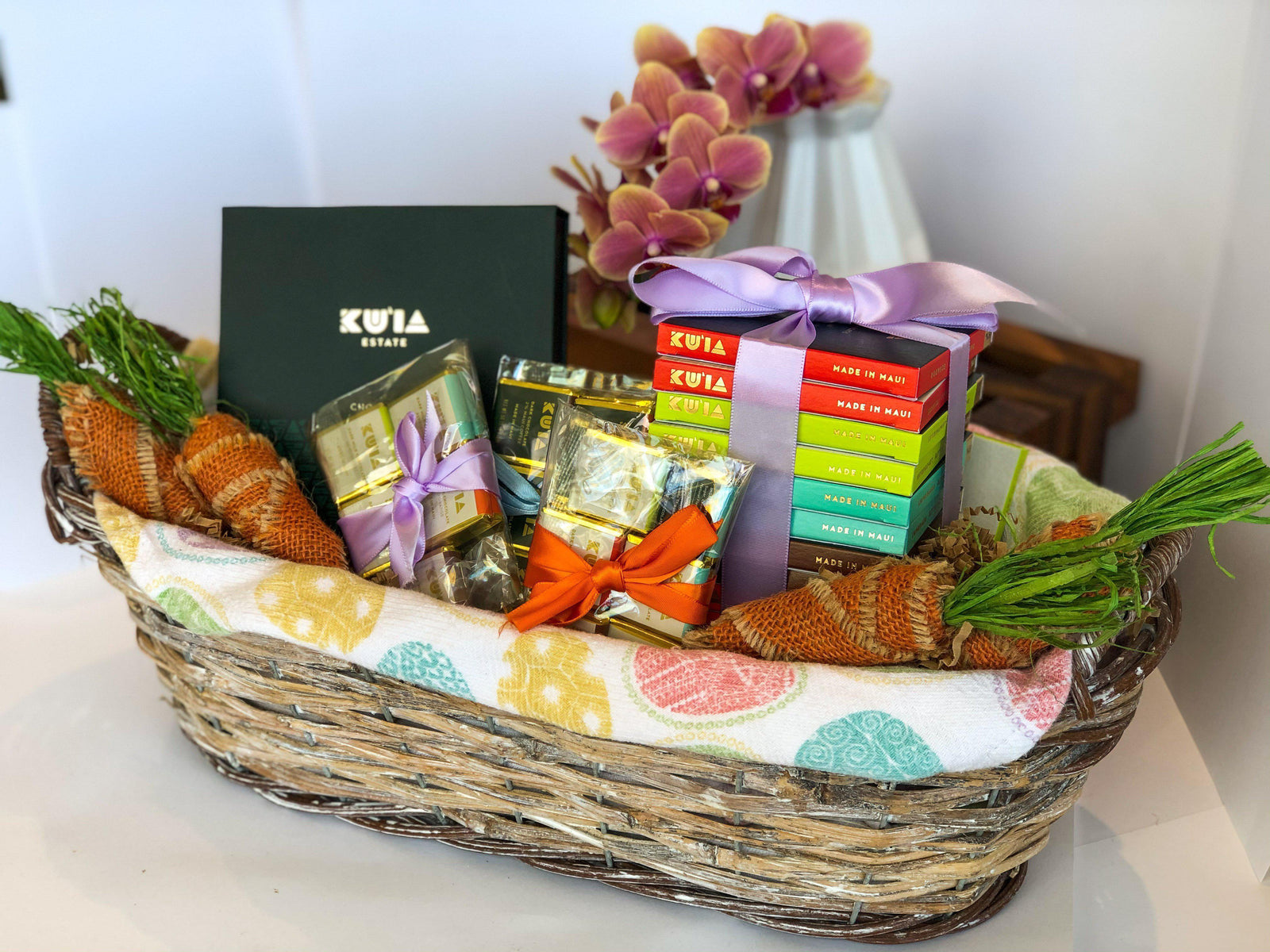 Easter is right around the corner! As many of us will be celebrating Easter in place this year, we have put together thoughtful collections of Made in Maui Easter chocolate that can be shipped to you, and to your friends, family, colleagues, and loved ones. 
All items in our 2020 Easter Collection make wonderful stand-alone gifts, or items can be combined to create a beautiful Easter Basket. So, as promised, we wanted to share a few tips on how to create a stunning Easter Basket using our chocolate treats. 
1. Prep Your Basket

This step is key to create a beautiful presentation. You can really use any type of basket that you prefer. Next, use a colorful material to line the basket (we used a festive dish cloth). Make sure to lay a bit of it on the outer lip of the basket so that it is visible. 
Next, and this is very important, add a filler into your basket for height. We used recycled crinkle paper, but you can use anything on hand, such as tissue paper to cloth.
2. Arrange Your Chocolates
Variety and height are really good to think about when creating your basket. We love to vary colors, shapes, and sizes to make it looks more fun and dynamic. If you are using our Easter Morning Family Fun collection, then we have already selected an array of gifts that easily meet these requirements for you. But, we encourage you to also create your own arrangement and have fun with it! 
Place the larger, taller items toward the back of the basket and the smaller, shorter items toward the front for visibility. 
3. Decorate With Props
Lastly, add in some fun props for decoration to take your basket to the next level. We love these little festive carrots! Eggs, flowers, and anything spring-related works wonderfully.
And that's it! We would love to see the beautiful Easter Baskets and Gifts that you put together with your treats from Ku'ia! Please feel free to share any with us on social media or email. Happy Easter from our 'ohana to yours!