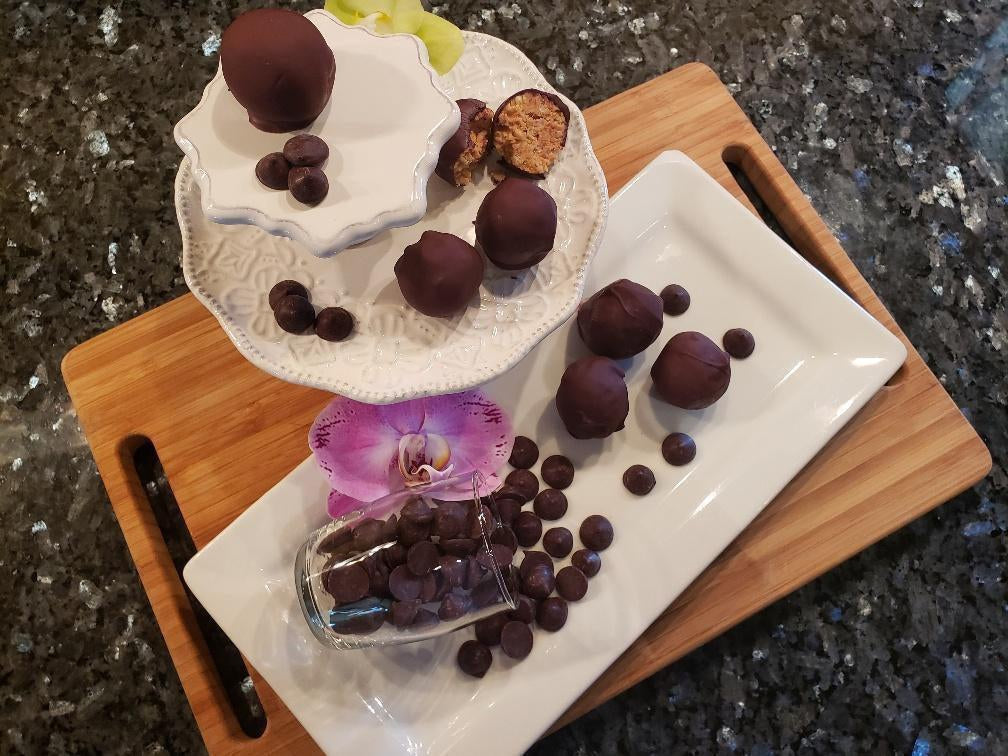 Lisa Foth, MKEC's Assistant General Manager, has a great family recipe for chocolate peanut butter balls that she wants to share with us. By request, she still sends batches of these kid-friendly treats to her son on the mainland – so you know they must be delicious! 
A note from Lisa:
"When I was a child my Grandma used to make these for us girls.  These Chocolate Peanut Butter Balls were addictive!  The adults in the family had to cut us off or we would eat them until we were almost sick!  This is a family friendly treat that everyone, no matter what the age, can be involved in making!  My grandma would mix the ingredients and grandpa would sit and roll them with us in preparation for the silky melted chocolate dip process.  A perfect project when staying at home together! I keep mine in the fridge; however, this is only a preference. Enjoy!"
You can find our Ku'ia Estate Chocolate Drops here.
Maui Ku'ia Chocolate Peanut Butter Balls
Ingredients:
1 stick of butter at room temperature
1 18 oz. jar of chunky peanut butter
2 cups powdered sugar
4.5 cups crispy rice cereal
2 cups Maui Ku'ia Estate Chocolate Drops
Directions:
1. Add all ingredients except chocolate into a big bowl.
2. Mix well and crush by hand.
3. Roll into 1" balls.
4. Refrigerate for several hours - overnight works great if you can wait that long!
5. Melt 2 cups Maui Ku'ia Estate Chocolate Drops.
6. Dip balls into melted chocoalte.
7. Rest on wax paper until set and enjoy!