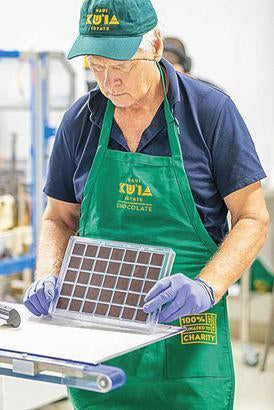 During the onset of COVID-19, it became clear to us that this was a necessary time to put our mission, "Chocolate Kuleana", into practice. Today, Lahaina News featured a story on some of the ways that we have been practicing this.
"In these challenging times, Maui Ku'ia Estate Chocolate (MKEC) has turned to its "Chocolate Kuleana" mission, sharing the positive effects of chocolate within the community.
Kuleana is a Hawaiian word meaning responsibility and privilege, and MKEC takes this task seriously.
Maui's only farm-to-bar chocolate company reached out to its corporate partners during these anxiety-filled weeks due to COVID-19, taking free boxes of bulk five-gram pieces of chocolate to local restaurants for them to give away to customers with every takeout order....MKEC then took it one step further, reaching out not only to its local partners, but also to all community members sheltering in place and in need of aloha.
The company's CEO and founder, Dr. Gunars Valkirs, personally curated Shelter in Place gift collections of dark and dark milk chocolate ($50 value) and offered them free as a makana (gift) during this difficult time."