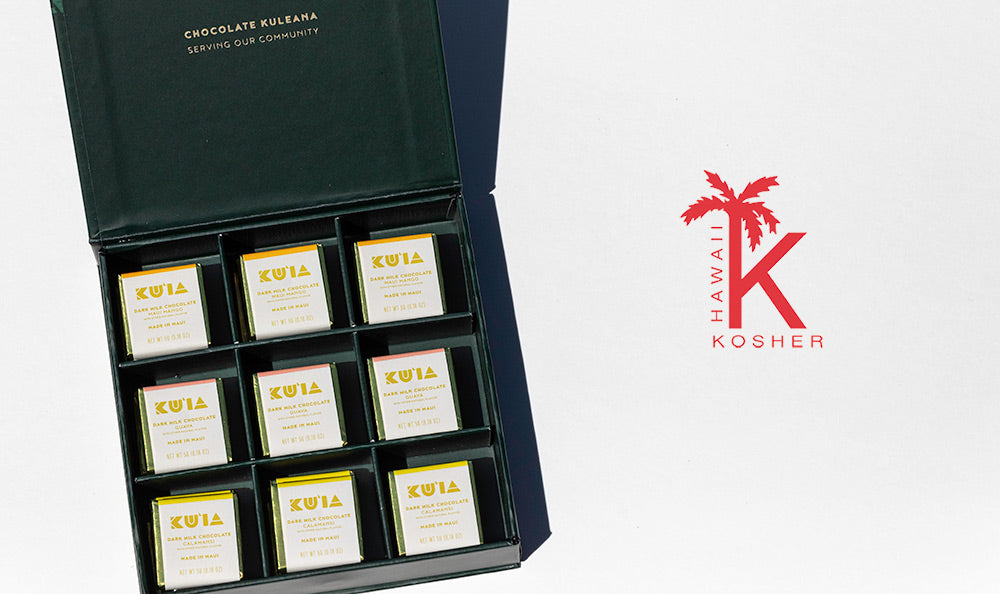 For more information and frequently asked questions, please view our Kosher page.
It often surprises our customers to find out that all of our chocolate is kosher certified. We know that it can be difficult to find kosher chocolate, so please spread the word! Our dark chocolate is Kosher Parve Certified, and our dark milk chocolate is Kosher Dairy Certified. Want to know the whole story behind our kosher certification? Below is some information from our company founder and head chocolate maker, Dr. Gunars Valkirs:
"All of our products are kosher certified by the Chabad of Hawaii.  Kosher certification is another level of food safety that not required but aligns well with our food safety plan that is required by the Food and Drug Administration.  As a food manufacturer we are required to have documented food safety plans for every manufactured product that cover everything from ingredients to finished products.
Kosher certification came about in a rather indirect way. About four years ago I started working with a company in California to develop powders from Maui fruit purees and juices that I sourced locally.  We went through a couple of years of R&D to determine how best to make a powder from these raw materials because water cannot be added to chocolate so direct use of a puree to flavor chocolate is not possible.  When I was satisfied with the results, I requested a production lot and was asked for my kosher certification because the production facility of this California company was kosher certified and all ingredients must also be kosher certified.  Kosher certification was not required by the R&D facility and they never told me during the years of R&D that kosher certification was necessary for a production lot.
This news was delivered before our factory was in operation so I had to wait until we were in production with our initial products before I could fly in the rabbi from Oahu, Rabbi Itchel Krasnjansky, who is the Executive Director of Chabad of Hawaii.  That happened in February of 2020 before the pandemic hit.  The motivating reason was to certify the mango, guava, and calamansi processed fruits but it soon became clear to all that all of our chocolate products used kosher certified ingredients and our manufacturing processes were entirely consistent with kosher practices.  As a result, our dark chocolate products are kosher parve and our milk chocolate products are kosher dairy.  We are re-certified each year by Chabad of Hawaii." 
– Dr. Gunars Valkirs, Owner and CEO of MKEC